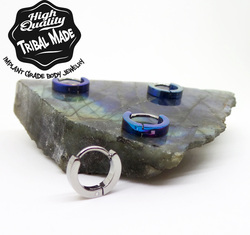 Who is Tribal Made and why was Tribal Made created?

Tribal Made is a jewelry company specializing in affordable high-quality titanium body jewelry, created for middle class / working class professionals in our body piercing industry.

Our body piercing industry has long needed a body jewelry company to provide high-quality, high-polish, Mill certified titanium body jewelry that is wholesale priced in the medium price point range.

This is going to allow shops, new and well rooted, to switch away from using stainless steel body jewelry in their basic line or in their basic piercings. This can and will give shops that newer edge or advantage that they were looking for in this current market. Why use stainless anyway?

There has been a demand in the body piercing industry for high-quality, high-polish, mill certified body jewelry that is wholesaled at a cost effective price. Tribal Made was started specifically to fill this void.

Up until now, high quality titanium basic body jewelry was only available from 3 main high-quality body jewelry manufacturers. A lot of the entry-level shops see the advantage of carrying high-quality jewelry but the dilemma has always been a fair and affordable price for high-quality.
Established shops see the advantage as well, where the price & sometimes insane wait times can hinder business.

For most piercing studios, selling "basics" is what pays the bills. Unfortunately, we are leveraged with high costs of "basics" when purchasing from the other 3 main reputable body jewelry manufacturers.

The difference between "medium" and "high-price" basics is more than enough to allow a small shop to grow to a medium shop or to allow any shop to now be able to afford all the glitzy, elaborate pieces that the 3 main manufactures are best at.
Tribal Made charges in Canadian dollars, giving our Canadian clients sometimes up to a 30% break by not purchasing jewelry across the border. Not to mention we offer free shipping on orders over $1000.00 and no duty.
Our American clients will save by paying in our Canadian dollars, saving them up to an additional 30% on top of our highly competitive prices.

Tribal Made's main facility is located in Calgary, Alberta, Canada - our facility in Calgary happily employs six people dedicated to the Tribal jewelry line. Within our facility, we have two full-time goldsmiths, one part-time goldsmith, a machinist and other various support staff. Some of our Canadian tools we have are a 1.9 Ton CNC Mill with a 10 Turret Tool Changer; a High Speed Mini CNC Mill with a 30,000 RPM Spindle; a CNC Lathe with a Four Turret Tool Changer; a Laser Engraver; and more .......

Tribal Made PROUDLY has a overseas (china) Ti-6Al-4V Titanium production facility that uses ASTM-F136 Mill Certification, that allows us to lower our machining costs to have a competitive price advantage over some of the other jewelry manufacturers. This price advantage is being passed to our clients in the form of savings to bring our jewelry to the middle-class.

Who created Tribal Made and who is Tribal Made???
_________________________________________________________________________________________________________________________________________________________________

Tribal Made was started by a collaborative group at Tribal Expression Professional Body Piercing in Calgary, Alberta, Canada. Headed by Keith Kennedy, Owner / Operator; Keith has had years of extensive experience manufacturing professional body jewelry and in fact his career and the shops success has hinged on this.

Keith Kennedy started manufacturing body jewelry under his company called Needex/Transdermal Industries approximately 18 years ago. Again, this was due to the demand for higher quality jewelry and there were few U.S. vendors such as Gauntlet; Good Art; and, a few others that had this to offer. The industry had been capitalized by a few large companies providing very good quality product at high prices in U.S. dollars.

After getting shown the ropes, Keith started manufacturing and selling to many Canadian shops, including the one that he was working at. This lasted for years until he obtained enough money to quit and start Tribal Expression. Once the Tribal Expression shop was open, he moved the jewelry manufacturing and goldsmithing into the back of the studio.

Tribal Expression became busy enough that they became the only primary client for manufacturing, at that point there was no longer a need for wholesaling body jewelry anymore. This lasted for years and allowed Tribal Expression to amass a selection of tools for our Canadian Body Jewelry manufacturing division that includes a CNC Lathe; mini High-Speed CNC Mill; 1.9t CNC Mill; CO2 Laser Engraver; and, many more.

We then came back full circle to producing high quality body jewelry to the masses to fill a void.

Tribal Made's implant grade body jewelry is manufactured with the highest quality standards, Mill Certifications and ASTM standards.
Tribal Made generally only produces high-quantity titanium body jewelry, doing limited runs of stainless steel.

Our jewelry is dual checked; once buy our team at the overseas factory and once by our team in Calgary before your order is sent to you.

Tribal Made guarantees all of our jewelry and guarantees our stone settings for one year from the date of purchase and much better on gold ;)
Tribal Made is a jewelry label that is willing to listen to its clients; in a time that most are getting hit with price increases, we are doing everything we can to reduce ours.

Pricing in Canadian dollars, free shipping ——— just to name a few.


---
---